Refresh your skills on Time Management – Activity Sequencing & Earn 15 PDUs for Free !!
Advertisement:


Last weekend, I came across an excellent refresher on Project Time Management – Activity Sequencing which give you an opportunity to earn 15 PDUs of category "A" for FREE !! I earned these 15 PDU very easily.
It's a very simple three step process:
Complete the course within 10 days – You can also complete it within less than 1 hr
Participate in Quizzes – You need to score 80% in the all the quizzes
Claim it on PMI – CCRS page – Now, you earned 15 free PDU !!
As posted @ LinkedIn, some of the persons, earned these PDUs in less than 1 hr.
Yes, its simple as mentioned here. Just follow the below URL:
http://pmwisesolutions.mindflash.com/PublicCoursePage.aspx?CourseId=112827237
After completing the course, you will receive an email congratulating to finish the course & earning 15 PDUs. After course completion, you will also get a chance to download PDF copy of the earned certificate.
Sponsored Links:

""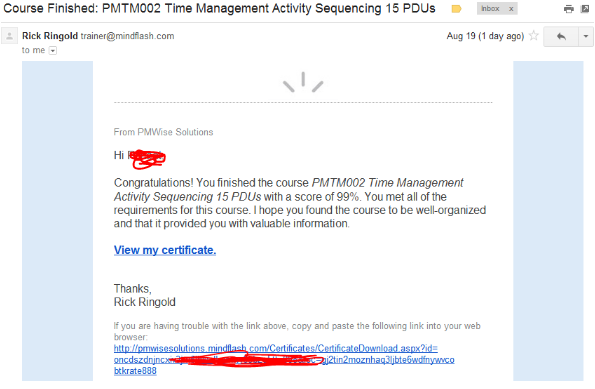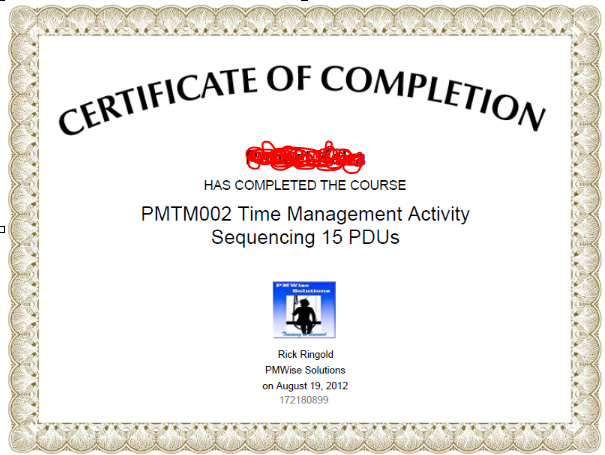 To claim PDUs follow below steps:
Open PMI – CCRS page – https://ccrs.pmi.org/Certificants/ClaimPDU.aspx
Select PDU Category as 'Cat A'
Select Activity Type as 'Find an Activity (course or event)' – Click on Next
Enter Provider Name as 'PMWISE SOLUTIONS' – Click on search
In the list of events click on PMTM002
Enter Start & Finish Dates, give your evaluation rating & click on Next.
Click on 'Next' in the next page
Check the I Agree check box & submit.
Now, you earn 15 FREE PDUs.
Comments
Search more stuff on Project Management, Agile & Scrum: