Project Management Workbook – a generic tool for a PM

Project Management Workbook is a generic tool for a project manager in order to reflect the project status quantitatively at any point of time in the SDLC in terms of:
Assumptions, Issues, Risks, Constraints, Follow-ups, Change-controls, defect logs, project progress in terms of schedule, Deliverables' status from impacted applications, stake-holder contact lists, etc.
It is a single point view of the overall health of the project. It's basic purpose is to reflect the project status at any given point of time of the SDLC phase:
With all the above mentioned elements as part of project management workbook
And after every project team meeting, to reflect the points discussed and the follow up items along with the updated risk, schedule and status information as a part of the project workbook.
As a best practice, a manager should update the workbook progressively as the project progresses.
A project manager can effectively conduct the project meetings and probability of tracking the following elements to closure is very high, compared to that of a manager without project workbook: Issues, Risks, Follow-ups, Change-controls, STR logs, Constraints, Assumptions etc.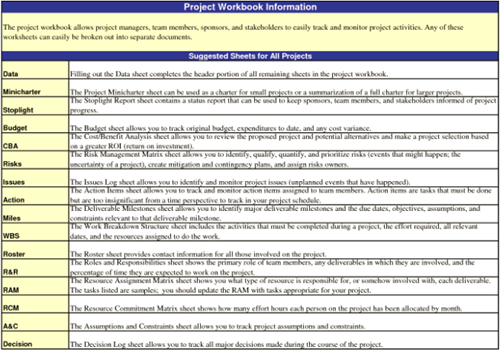 It is best if we maintain the historical information on Risks, assumptions, issues, follow ups etc. on this single sheet.
Benefits:
Improved Productivity: For a project manager, as project-dashboard can be made quickly refreshed at any given point of time in SDLC.
Customer delight: The Project Management Office where this project-workbook is produced, gets the full picture of project with appropriate explanation on both positive and negative impacts.
Minimal Information Leakage: This sheet contains consolidated information of all vital aspects of a project and this gets updated regularly as the project progresses. This ensures that all information/history of the project is recorded which helps in better project tracking, monitoring and trend-analysis too.
As such there is no specific template for this workbook. Any individual PM can have his or her own workbook template (if the company's QMS does not have this). Apart from the above items, few other data points can also be captured in this like change logs, estimation, effort variance, requirements creep, stability index, staffing & training plan, audit / NC status, release details etc.
Here is a sample of one of the templates that I found from internet.
Project Management Workbook
Search more stuff on Project Management, Agile & Scrum: