Project Management in Cloud Computing

Indian IT industry has grown from $2 billion in export revenues in 1998 to more than $50 billion today and expected for 2020 is nearly $175 billion. Cloud computing seems to be a promising technology platform and delivery model which might accelerate the non-linear growth of today.
Most of the debates, and discussions about cloud computing are technology centric. In order to become a global leader in Cloud Computing services space, it is important to understand the technology & business.  It will help in providing high end services to customers as trusted advisor.
Project Management acts as catalyst in building the robust service delivery engine to deliver better, faster and cheaper services to global customers. It is important to build project management engine for service delivery to ensure repeated high success rate.
PMI North India Chapter is organizing an event on 30-Sep-11 with Project Management Veterans on Project Management in Cloud Computing in Noida, India. It is in collaboration with IBM India.
This event is an effort to build a platform and initiate dialogue to build the necessary project management assets ahead of the other countries. This is a transformation journey and which country starts first and move fast will be the winner!
There is not fee to attend this event for PMI North India Chapter members. However, for non-members, there is a fee of Rs. 400 per member i.e. less than $10. Hope this event is worth for money. Registration will be on the spot.
Here is the basic details of the event: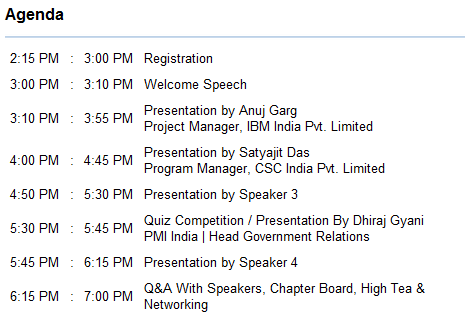 Key Speakers:
Anuj Garg, PMP – IBM: Anuj is a dynamic PMP certified professional with over 5 yrs of experience in Project/Program Management. He has earned"Innovation and Leadership" and "Technical Excellence" awards. He believes cloud computing and virtualization are the way forward for Infrastructure needs in the coming future.
Satyajit Das, PMP, ITIL – CSC: Satyajit is a PMP and ITIL certified professional with over 18 years experiencein diversified technologies. He is currently supporting 20+ customers for their Infrastructure and Cloud Computing needs.
However, as per email I received, for any further queries, you may reach to any of the board members of PMI North India Chapter. Their updated contact information is available @
http://www.pminorthindia.org/About-Us/Board-Of-Directors.aspx
Search more stuff on Project Management, Agile & Scrum: