How to Build a Successful Project Team

Project team is a group of members, which are expert in field and perform task for the success of project. For successful project management project team plays an important role. Success or failure of the project totally depends upon the team members, who design and build the project.
Here are help tips to build successful project teams:
Team Selection: During selection of the project team, first select the team leader. Which is necessary for a project Team? Team leader must have the full knowledge about the project, knowledge about the various functions that are to be performed in the project. Team leader must be an expert person who knows the tact for facing and solving any type of problem in a project. Team Leader must know the way of how to manage his team member for the competition of the project.
Check the calibre of the team members for the project. They must have the knowledge about the required domain or field. Based on the skill level of the team member, place him or her in the relevant position in the team hierarchy.
Attitude of team members must be positive about the company and project. If they have a positive attitude, they can solve any type of problem in a project and work towards the achievement of goals for the project success.
Whenever a new team member joins the project, first help him understand the goal of the project. When, he or she understands why this product or software is being build, team member can add more value to the development.
Communication: For the successful project team it is necessary to give time to all the team members in which they can communicate with each other. So it is the responsibility of the project manager to set the spare time for communication at the time of project scheduling.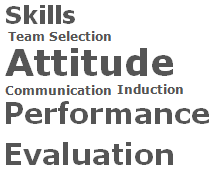 Performance Evaluation: Define frequency & criteria for performance evaluation of team members. It should be transparent. Give a fair feedback to each team member and suggest areas of improvement in a positive way in a one-2-one meeting. For performing members, give rewards – financial or non-financial.
Induction: When any new member comes in a team, it is the responsibility of the project manager to arrange induction program. Give the knowledge about the company, about the project. For new team members, arrange KT of the project well on time. Avoid for making the pressure on a new member.
Apart from these points, also plan some team building exercises and team trainings etc.
Search more stuff on Project Management, Agile & Scrum: