Progressive Elaboration
Advertisement:


Although a project is a temporary endeavors but it cannot be conceptualize or planned in a single day nor it can be completed in a day. It holds true for most of the projects until your project is for buying some vegetables in a store.
Generally, there is a problem statement or concept for business benefit first and then it evolve as a complete plan via requirement elicitation & market research and finally a unique product.
Progressive elaboration is the refinement & detailing of project concept to detailed project / product requirements and plan. It is a continuous iterative process.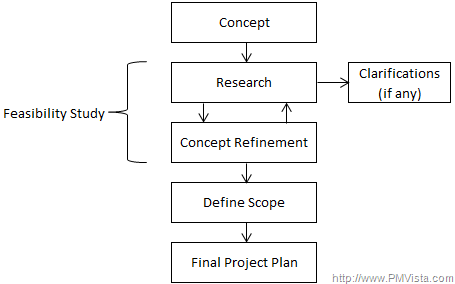 Basis project concept, relevant stakeholders & SMEs sit together to finalize a list of business requirement. Now, next step step would be Business user, SME & business analyst sit together & brain storm for detailed functional specifications of each business requirement.
PMBOK defines progressive elaboration as
"Continuously improving and detailing a plan as more detailed and specific information and more accurate estimates become available as the project progresses, and thereby producing more accurate and complete plans that result from the successive iterations of the  planning process".

Sponsored Links:


""
Let me give one example:
Concept: Management of a very large online shopping portal wants to see daily sale & company's service expenses of products listed in the website under different categories by different sellers except for few power sellers.
Business Requirements: Here, team will sit & list down the different categories of products/services and categories of sellers for which this info is required.
Functional Requirements: For this, team will again sit with different stakeholders / end users to detail out the requirements of each module for each category / seller. Final step could be detailing of functional specifications @ component level
With each iteration, scope is constantly modified, detailed and improved. Following this approach will result in well defined scope & better estimates which will certainly help in managing stake holder expectations.
Some examples w.r.t. different methodologies:
Water Fall – Rolling wave planning (Multiple water falls)
Agile – Sprint Planning
Agile – Kanban task decomposition
Prototyping
Sometimes, after final project plan approval and initiation of project execution, progressive elaboration can continue to some extent. Don't confuse it with changes. In progressive elaboration, there is no change in requirement, its only requirement detailing. For any change you must follow the change management process as agreed in project plan.
Comments
Search more stuff on Project Management, Agile & Scrum: